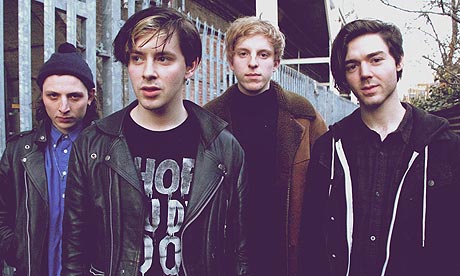 We're excited to be co-presenting
Peace
at The Echo tomorrow night!
Lemonade
will be supporting and with the shared talent between the two of them it's definitely going to be a great time! Tickets are only $18 here at OV!
Here's what our friends at the El Rey had to say up-and-comers PEACE:
"Hailing from Birmingham, Peace are a young four-piece pointing the way for a new generation of British guitar bands. Their debut release, EP Delicious (out in USA in February), has a sense of adventure and playfulness that led it to enter the UK iTunes chart at 14, surprising everyone, especially the band. Singer Harrison said "Up until now we've been working a a release rate of 1.5 songs a year, so this is us basically smashing our personal best. I can't really work out what EP 'Delicious' is but I think that's the best way to feel."
Signed to Columbia Records, Peace are an incredible live band with over 200 shows alone in 2012, playing with the likes of Mystery Jets, Manic Street Preachers and Vaccines. They're in the studio with Jim Abbiss finishing up their debut album which will be released early 2013."
And True Panther Record's preview of Lemonade's new album
Diver
:
"Diver swims ecstatically in every thing from the melodies of early 90′s R&B, UK 2-step Garage, Balearic house and NY freestyle to '80s pop-rock nostalgia, wispy new age, boy-band innocence, and synth-driven Euro-trance. The production, assisted by Fisherspooner collaborator Le Chev, is exceptionally crisp. Diver also contains some of most easily digestible music Lemonade has ever produced, yet it is anything but shallow. Callan's lyrics now look inward, to his attempts to hold on to redemptive love and romance in a cybernetic, information-rich world."