Tonight at Record Club, we're adding to our repertoire of round things by bringing in Highland Park bakers extraordinaire
Donut Friend
in to spin some vinyl with us! Already amazing purveyors of everything 90s alt-rock donuts, we fully expect their curation to both taste good and rock our damn socks off!
If you haven't heard of Donut Friend, well you need to hear about Donut Friend. Founded by Mark Trombino, who you may know as that dude who played in Drive Like Jehu
and
produced just about every 90s alt-rock gem you can think of, Donut Friend is where your love of Mineral meets your love of cake-bagel yumminess. Featuring beautifully titled donuts like "Rites of Sprinkles" and "Fudgegazi," Donut Friend both mashes up names like a boss (we like to think our punning inspired them), but also mixes flavors like you've never seen. We're talking bacon donuts, Sriracha donuts, goat cheese donuts, the works! On top of that, in proper DIY fashion, Donut Friend allows you to describe your perfect donut, and watch it appear right before your eyes! It's actually the best thing ever!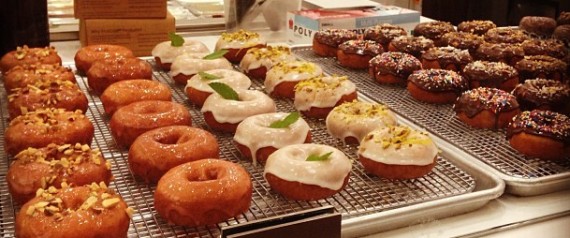 As part of their curation of Record Club tonight, Donut Friend will be providing as many donuts as you can handle, high fives aplenty and a couple surprises that'll have you licking your lips. To keep in line with their 90s alt-rockness, we're hoping y'all can scrounge up a couple Jawbreaker records for us to spin too. Either way, it's gonna be pretty damn awesome and we can't wait to get our hands on your LPs and on Donut Friend's delicious donuts! The party gets started at 9PM at
El Prado
, so you better grab some napkins and get here quick!