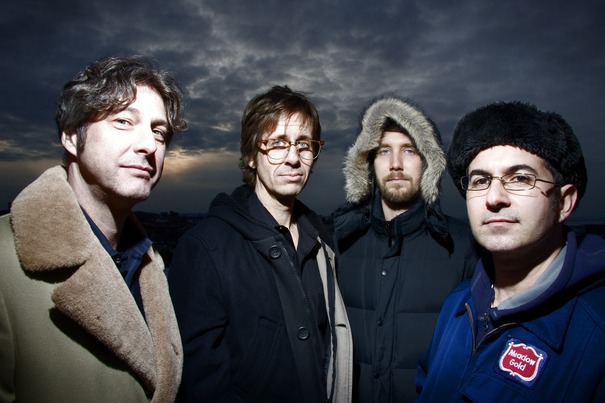 We're excited to be co-presenting
The Obits
at The Echo tonight!
Rob Crow
of Pinback will be supporting and between the Obits hard-hitting garage rock and Rob Crow's melodic guitar lines, it's sure to be a rowdy time! Tickets are only $14 here at OV!
The Obits are a supergroup of sorts, formed from members of the Hot Snakes, Edsel, Drive Like Jehu, Girls Against Boys and Pitchfork. Quite a list isn't it? Here's what Sub Pop had to say about
Bed & Bugs
, the newest album of this uber-talented foursome:
"Thank you for what we are presuming to be your interest in the band Obits. They are a four-piece band who currently live in Brooklyn, NY, and whose music is most probably considered an occupant of the rock music genre, with more specific reconnaissance in the areas of garage, punk, surf, surf-punk, and garage-punk (though, not surf-garage).
Critical response to previous Obits albums has included such adjectives as: "spacious" and "jumpy" from The New York Times; "propulsive," "sandpapery" and "sweaty" from Pitchfork; "powerfully wiry" and "declamatory" from SPIN; "driving" and "really good" from Dusted. Descriptive responses from actual, verifiable employees here at Sub Pop Records range from "fidgety," "tight" and "loose" (Warehouse Manager Mark Arm), to "picaresque," "pithy" and "cogent" (International Sales and Distribution Honcho Gabe Carter), to "skronkeratchity" and "ffffromp-ful" (from our borderline incomprehensible Direct Sales Commander (Western Quadrant) Dean Whitmore). We look forward to new and inventive adjectives with the release of Bed & Bugs."
And Temporary Residences's bio of Pinback frontman Rob Crow:
"Rob Crow is the frontman for the relatively well-known group Pinback. When he's not touring with, or making albums for one of his many collaborations (including the aforementioned Pinback, The Ladies, Goblin Cock, Optiganally Yours, Other Men, Alpha Males, etc.), he makes solo records. His latest album, 'Living Well', is his most focused and heartfelt album yet. He writes some of the most addictive songs we have ever heard, and he often has a giant beard to boot."